The computers available only a few years ago and those of today are worlds apart. Now with a modern PC, you experience exciting, new and innovative forms that are thinner, lighter, and faster than ever. Built for Windows 10 and powered by Intel's best-ever generation of core processors, today's modern PC is an experience out of this world at a price that's down to earth.
Find out more about Modern PCs in our blog Read more
Modern PC Features
6th gen Intel® Core™ Processor
6th gen Intel® Core™ Processor
The new generation of Intel processors use the latest and most efficient technology to power Modern PCs. With a 6th gen processor, a Modern PC works harder, faster and smarter. Modern PCs deliver crisp visuals, impressive gaming performance and faster than ever speeds for those programs you use everyday.
Experience speeds up to 200% faster than a 5 year old PC*1 with a Modern PC using a 6th generation Intel processor.
Intel's processors start up faster and run more efficently so your battery lasts longer.
Optimised for Windows 10, the latest Intel processors power Modern PCs with better graphics and security.
Solid-State Hard Drive (SSD)
Solid-State Hard Drive (SSD)
Unlike their predecessors, SSDs don't use mechanical parts, so a Modern PC boots up in seconds and loads your favourite programs and apps faster than ever before. SSDs come in a range of sizes to accommodate every need. Whether you just want your most used programs to start faster or need lots of storage space for games, movies and photos, an SSD is a must-have.
SSDs are perfect for accessing your favourite programs at lightning speeds.
Games, videos and more will load faster so you have less downtime to deal with.
SSDs are quieter, generate less heat and even use less power than a traditional HDD.
All-Day Battery Life *2
All-Day Battery *2
What good is a cutting edge laptop if it doesn't last? True Modern PCs include powerful lithium batteries that can work or play hard all day. Whether you're on the go for work, meeting up with a friend or taking your laptop to your favourite café for a change of pace, a Modern PC with an all-day battery is up for the job.
Leave bulky cables behind and enjoy the ease of taking your PC anywhere.
Work hard all day, even away from your desk, with an all-day battery that can carry you through your day.
Never be tied down by your tech again. Modern PCs are lightweight and stylish.
Touchscreen
Touchscreen
Interact with your PC just like you do with your phone using a touchscreen monitor. Designed to be easy to use and intuitive to understand, a touchscreen breaks down the barrier between user and technology. With a touchscreen, a Modern PC lets you tap, swipe and handwrite to experience your favourite programs, games and more in an all-new way.
Touch, write, swipe and tap to control your computer with unprecedented ease.
Take notes or design stunning artwork by using a stylus pen to write or draw straight on to the screen.
Play your favourite apps on your laptop or tablet just like you do on your smartphone.
Why Choose a Modern PC?
Work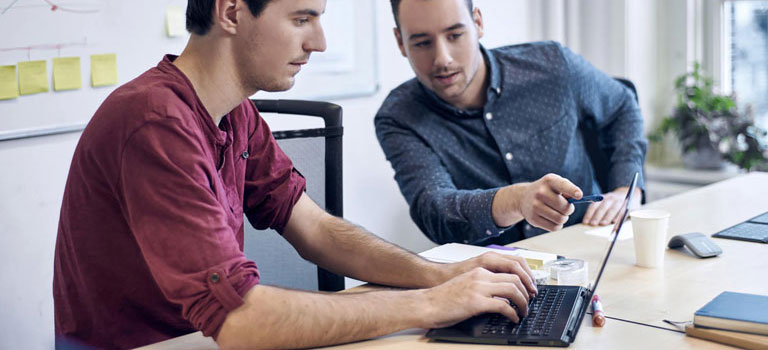 Work
Whether you're a uni student or professional, a Modern PC will kick your presentations, video streaming and emails into overdrive.
Upgrading to a Modern PC gets a laptop going faster to take down lecture notes, lets you to interact with your projects by touch and lasts all day. Using Windows 10, you have the latest security features to keep your data safe, a touchscreen to write and edit straight to your screen and blazing-fast processing power all at your fingertips.
Play
Play
Love to write, draw, paint or make music? Then the latest technology can help you better express yourself and stay ahead of the curve.
Touchscreens are perfect for artists to digitise their work and the latest 6th generation Intel processors and SSDs are ideal for musicians or other large creative works that you want working and loading faster. If you're looking for a bit of downtime, Modern PCs are perfect for a game or two and deliver crisp visuals for streaming video.
Go
Go
Messes of cables and stationary computers are relics of the past. With the latest laptops and tablets you can take your work and entertainment with you anywhere you go.
With all-day battery life and intuitive touchscreen features Modern PCs blend seamlessly into your lifestyle rather than tying you down. Whether you're heading out on a day-trip adventure or planning an international holiday, you can rely on a Modern PC to stream videos and help you get around, all in a lightweight and beautiful design.
*1. For more complete information about performance and benchmark results, visit intel.com/performance
*2. All day battery life up to 8 hours, depends on device and usage.